AMP Senior Choir Performs at Opening of New Grady Hospital Pavilion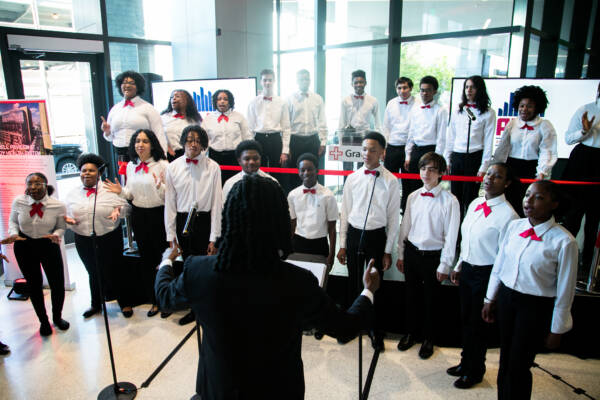 The week was off to a great start, as the Atlanta Music Project had the opportunity to participate in a monumental occasion for Atlanta's public hospital.
Yesterday morning Grady Memorial Hospital and the Grady Health Foundation celebrated the opening of a new building, named the Correll Pavilion. The Correll  Pavilion will increase the hospital's capacity by 45% and increase the amount of operating rooms by 25%.
Highlights of the ribbon-cutting ceremony included remarks from Grady Board Chair Larry Gellerstedt, Fulton County Commission Chairman Rob Pitts, and DeKalb County CEO Michael Thurmond. The audience included members of the Correll Family as well as other supporters of the $230 million capital campaign that made the building  a reality.
At the generous invitation of the Grady Health Foundation, the Atlanta Music Project Senior Choir opened the festivities with a rousing performance of "Brand New Day" from the musical The Wiz. The music continued with a performance of the classic "Lovely Day" by Bill Withers. Led by veteran AMP teaching artist Keeyen Martin, the choir performed with panache to a standing-room only audience.
Thank you to the Grady Health Foundation for having us, and congratulations Grady Memorial Hospital!