Atlanta Music Project Announces Two Transformational Gifts Totaling $4.6 Million Alongside AMP's Largest Year of Service Ever
Grants from the Chestnut Family Foundation and an Anonymous Donor Catalyze a New Level of Music Training for AMP
Atlanta, GA – November 14, 2023 – The Atlanta Music Project (AMP) announces the receipt of two major gifts totaling $4,642,000, marking a catalytic moment in its mission to bring world-class music training and performance opportunities to youth in under-resourced communities. 
These gifts come during AMP's largest year of service ever, during which AMP will serve over 700 students, from grades 1 through college, via a comprehensive suite of programming that includes band, orchestra, choir, private lessons, summer programs, and college and career support.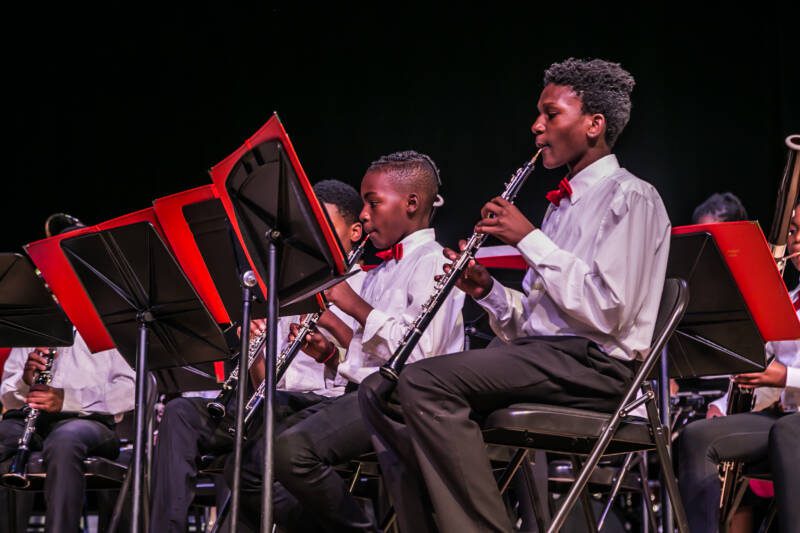 In September of 2023, an anonymous donor gifted AMP $3,500,000, the largest single gift in the organization's history. The funds will be used to acquire high-quality orchestral instruments for the AMP Youth Orchestras and to outfit the entire AMP Center for Performance & Education with Steinway & Sons pianos. Additionally, the funds will be used to establish two new endowments: one supporting national and international performances and competitions for AMP ensembles, and the other for supporting the ongoing maintenance of AMP instruments and equipment. 
In October of 2023, the Chestnut Family Foundation gifted AMP $1,142,000, the foundation's largest single gift to AMP. The funds will be used to support the development of AMP teaching artists, the new full-time Music Career Counselor position, AMP's partnerships within local public schools, and bolster AMP's two new endowments. 
The Chestnut Family Foundation is one of AMP's most steadfast and collaborative philanthropic supporters. Their prior gifts to AMP include the lead gift for AMP's Next Movement Capital Campaign, establishing AMP's first ever headquarters space, and the creation of the AMP Chestnut Family Foundation College Scholarship Fund, which supports AMP alumni pursuing post-secondary education. 
Ben and Teresa Chestnut, trustees of the Chestnut Family Foundation, stated "At the Chestnut Family Foundation, we believe in the life-changing potential of the arts. Our support of the Atlanta Music Project reflects our commitment to providing young musicians with the tools to thrive." The Chestnuts continued, "We are proud to continue to support the wonderful growth trajectory of AMP, and the expansion of its impact on our community."
These transformational gifts will catalyze AMP to better serve its most advanced young musicians, while supporting the professional musicians who teach them. This funding is a major step towards the organization's financial sustainability, which will allow AMP to continue to provide life-changing experiences to its students. 
"We are humbled and elated by the incredible generosity of the anonymous donor and the Chestnut Family Foundation," expressed Dantes Rameau, Co-Founder and Chief Executive Officer of the Atlanta Music Project. He continued, "Their respective investments in AMP, which were developed using principles of trust-based philanthropy, underscore the power of music to support youth development and achievement." 
Philip M. Juravel, Chair of the Atlanta Music Project Board of Directors stated, "As a longtime volunteer board member of AMP, I am deeply moved by the profound impact these transformational gifts will have on the children we serve. The generosity of the anonymous donor and the Chestnut Family Foundation has ignited a new era of possibilities. On behalf of the AMP Board of Directors, thank you."
The Atlanta Music Project invites philanthropic donors and supporters to visit https://atlantamusicproject.org for more information on joining our cause. 
About the Chestnut Family Foundation
Founded in 2017, the Chestnut Family Foundation invests in the lives of children through access to the arts. The Chestnut Family Foundation believes that all children should have access to resources that enable them to be healthy, develop self-confidence, and enjoy life. The foundation seeks to partner with nonprofits that have demonstrated compassion and creativity in improving access and choice for children in the areas of health and the performing arts, and ultimately, help build confidence in children.
For information visit https://chestnutfamily.foundation/
About the Atlanta Music Project
Founded in 2010, the Atlanta Music Project (AMP) provides world-class music training and performance opportunities supporting youth growth and development. Operating in under-resourced communities, AMP's mission is to empower youth to realize their possibilities through music. AMP serves 700 young musicians annually through: beginner-level choir, band and orchestra through the AMP Preparatory School; the intermediate and advanced AMP Youth Orchestras & Choirs; private instrumental and vocal lessons through the AMP Academy; and the annual month-long  AMP Summer Series. Additionally, AMP runs a college and career program, supporting AMP high school students and AMP alumni. Since 2021, AMP has awarded 50 college scholarships to its alumni, totaling $231,374.
AMP music ensembles perform more than 60 concerts annually, performing in venues all across Atlanta, from community centers to the Mercedes-Benz Stadium. AMP music ensembles have performed alongside international stars such as cellist Sterling Elliott, rapper Lecrae, operatic baritone Edward Parks, R&B singer Monica, The Piano Guys, the Harlem Quartet, electric violinist Lindsey Stirling, pianist Terrence Wilson, and the Imani Winds. AMP musicians can be seen performing with rapper T.I. on NPR's Tiny Desk concert series. AMP's young musicians have successfully auditioned for Georgia All-State ensembles, performed with the Atlanta Opera and the Atlanta Ballet, and have concertized as far away as Los Angeles, Aspen, Mexico City, and Scotland. 
AMP is the recipient of several prestigious awards: 2015 Local Community Service Award (Spelman College), 2016 Neighborhood Builder (Bank of America), 2016 & 2017 Top 50 Youth Arts Program (USA President's Committee on the Arts & Humanities), 2018 MLK Jr. Community Service Award (Emory University), 2019 Luminary Award for Arts Education (ArtsATL), and 2021 Infusion Award (Lewis Prize for Music).
AMP's existence is a direct result of the 2009 TED Prize, which was awarded to Dr. Jose Antonio Abreu, founder of Venezuela's El Sistema. AMP's co-founders were members of the Sistema Fellows Program at the New England Conservatory in Boston. AMP is a member of "El Sistema USA," the National Alliance of El Sistema Inspired Programs.
AMP's current and past major funders include, the Chestnut Family Foundation, the Abraham J. & Phyllis Katz Foundation, the Arthur M. Blank Foundation, the Chick-fil-A Foundation, Georgia Power, Bank of America, Mailchimp, The Zeist Foundation, the John H. & Wilhelmina D. Harland Charitable Foundation, William Randolph Hearst Foundations, Mayor's Office of Cultural Affairs, Fulton County Arts Council, Fulton County Community Services Program, Georgia Council for the Arts, Georgia Music Foundation, and the Community Foundation for Greater Atlanta.
AMP's partners and collaborators include the City of Atlanta Department of Parks & Recreation, Atlanta Public Schools, Clayton State University, Utopian Academy for Arts, and the Chestnut Family Foundation.
For more information visit http://www.atlantamusicproject.org
###