Atlanta artist Fabian Williams, aka Occasional Superstar, shares his inspiring story from growing up as an artistic child in a military family, taking his talents to Los Angeles to work in advertising for some of the biggest brands, only to leave corporate America behind to focus on creating murals with social and political messages. The destruction of his original Colin Kaepernick mural led to his response – #kaeperbowl – centered around Superbowl 53 in Atlanta, and leading to a global media frenzy. Podcast host and AMP CEO Dantes Rameau is joined by Alivia Carter and Landon Wilkins, two alumni from the AMP Class of 2020.
WATCH THE NEXT MOVEMENT PODCAST EPISODE 4
WITH FABIAN WILLIAMS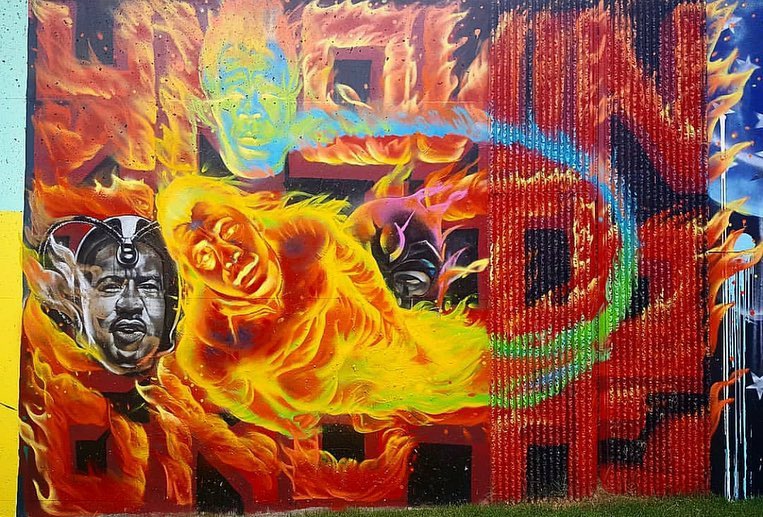 Fabian Williams aka Occasional Superstar is an artist born and raised in Fayetteville, NC, now living in Atlanta, GA. Fabian studied illustration at East Carolina University. After working for 13 years in the advertising industry with a long list of clients from Nike, Warner Bros to HBO, he decided to move to a purely expressive practice outside of the commercial space where he had the freedom to express more political and socially relevant contemporary themes.
Hosted by Dantes Rameau, our Co-Founder & Chief Executive Officer, and recorded at the AMP Center for Performance and Education,The Next Movement podcast features in-depth video interviews with today's artistic luminaries. In these conversations we discuss the issues of the day, from COVID-19 to childhood upbringings, and structural racism to music education. In addition, each episode features a special Q&A session with young musicians and faculty of the Atlanta Music Project.
WATCH THE NEXT MOVEMENT PODCAST EPISODE 1
WITH ANTHONY MCGILL & DEMARRE MCGILLW
WATCH THE NEXT MOVEMENT PODCAST EPISODE 2 
WITH JOHANNES MOSER
WATCH THE NEXT MOVEMENT PODCAST EPISODE 3
WITH JOSEPHINE LEE
Full podcast episodes are available on AMP's YouTube channel (don't forget to subscribe!), iTunes, and wherever you enjoy listening to your favorite podcasts.